Sophie Kerr once said, "If peace only had the music and pageantry of war, there'd be no wars." Peace is needed everywhere, and so are celebrations of peace. The Dalai Lama expained recently that one of the best things people can do to create peace is to have festivals that bring people together. Peace events can bring different communities and individuals together to find common ground and form connections that will expand peace.
The people attending a peace event should be as diverse as possible, coming from many places and of mixed demographics. The event should encourage self-expression and inclusiveness. Each person should feel free to be themselves, and accept others for who they are. By accepting others, we lay the foundation for deep understanding and peace.
There should also be a cultural and artistic element to a peace event, that allows people to find similarities across political, religious, and social barriers. Art and music are universal in their reach, providing an ideal background for common interests to be discovered. A peace event needs to provide a platform for connections and relationships to form, and new ideas to be sparked. Peace events should be a place for personal transformation and collective growth.
These are the elements of the How Weird Street Faire, a peace event held in the streets of downtown San Francisco. This year's faire was on Sunday May 4, 2014, and was attended by over 25,000 people. The people come to the faire from around California, from across the entire US, from Canada and Mexico, and South America, and Europe, and Africa, and Asia, and Australia and New Zealand. The ages range from babies to senior citizens, although most are young adults. Many of the people wear colorful costumes, which offer the opportunity to fully express their unique perspectives to others, and creates an environment where others' perspectives are respected and admired.
How Weird is a place where weird is normal, and creativity is valued over everything else. Being weird leads to discoveries and seeing things differently, exploring new ideas and new realities. By honoring weirdness and uniqueness, the How Weird Street Faire has created a peace event that welcomes everyone, no matter how different you are. How Weird is a place where anyone can feel accepted, and is encouraged to accept others.
The How Weird Street Faire brings a very diverse group of people together through music, art, and culture. The primary music used is electronic dance music, because it has the widest appeal and use around the world currently. How Weird tries to bring all the different communities of electronic dance music culture together, to showcase the full range of what is going on in this vibrant area, and as a peace-building project to build connections between all the different electronic dance music communities and unite them for a day.
The primary action used to get diverse people to interact with each other at the faire is dance. Dance is a highly respected art form, a powerful therapeutic tool, and a great form of exercise. Traditionally, dance has been one of the primary expressions of human culture, used for communication, community building, healing, and religious ceremonies throughout the world. Preceding the spoken and written word, dance transcends differences, and is an ideal way to connect people on many levels. And it's a lot of fun.
The How Weird Street Faire is a fun and inviting place. Everything about How Weird is positive and supportive of others, it is a true celebration of peace. The faire creates an ideal community of peace for a day, which then inspires others to help make their community more ideal, and more peaceful. We hope to bring the faire to other places soon, and seed new peace events around the world. The How Weird Street Faire is a project of the non-profit World Peace Through Technology Organization, showing the world what peace looks like, and a demonstration of what is possible.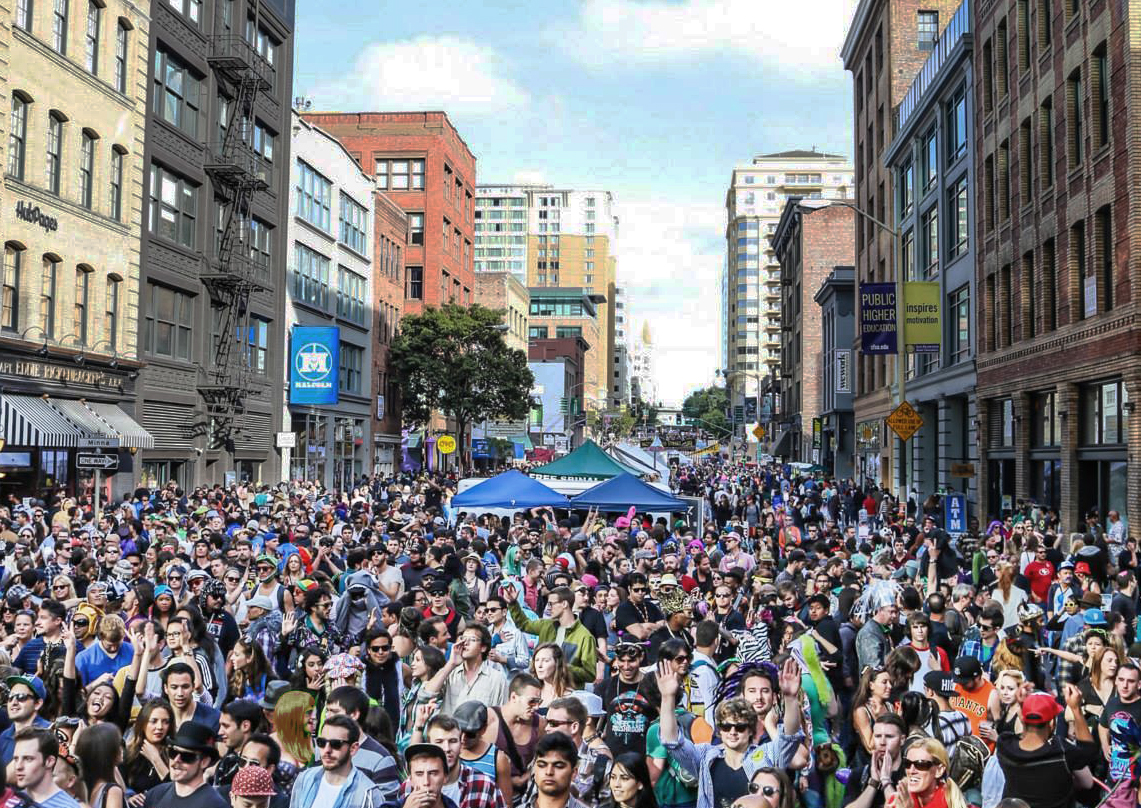 Peace… the final frontier.
This is the voyage of our beloved Spaceship Earth.
Our ongoing mission: to discover new ideas and new perspectives, to raise our awareness and understanding, and to live in peace as one planet – in harmony with the cosmos as we collectively dance across time and space.
What does a peace event look like?