The Human Library is a new way of challenging prejudices through conversation. Human Libraries are an international movement that use social contact to break down barriers and discrimination. They use the language and mechanism of a library to facilitate respectful interactions that can positively change people's attitudes and behaviors towards members of communities who are at risk of exclusion and marginalization. The Human Library is where difficult questions are expected, appreciated, and answered. In spite of all the violence and conflict taking place in the world today, the Human Library is a simple way for people from all different demographics to sit down together and have an open exchange of ideas and perspectives.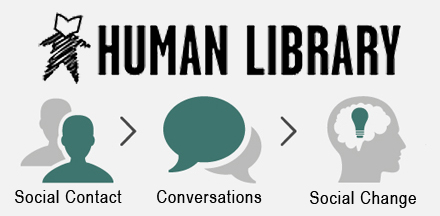 Just like in a real library, a visitor to a Human Library can choose a Book from a range of titles. The difference is that the "Books" are people, and instead of reading there is a conversation. Social contact is known to be among the best ways to challenge prejudice, and the Human Library enables it to flourish. The Human Library provides a safe environment for people to engage in conversation within a framework of respect, and with permission to respectfully ask questions and share experiences. The dialogue that the Human Library facilitates has the potential to challenge prejudice, stigma, and discrimination. Some of the popular Book titles are Muslim, Refugee, Gay, Transgender, Post-Traumatic Stress Disorder, Young Black Male, Handicapped, Blind, Jewish, Christian, Buddhist, Downs Syndrome, Recovering Alcoholic, Teenage Mother, Substance Abuser, Unemployed, Autistic, Learning Disability, Facial Disfigurement, Obese, and Homeless.
In practice, the Human Library celebrates the diversity of our communities, raises awareness of many different reasons people may experience exclusion, and takes positive action to address some of the issues that can lead to bullying, abuse, and hate crime. Book titles deliberately acknowledge and provoke the assumptions and common prejudices that we, or society, may have. Readers are empowered to choose from a broad range of titles, and challenged to engage with the people behind the labels. The experience generates instant appeal and is a practical way to engage the public with big issues such as equality, diversity, and human rights. The Human Library is easy to organize because it not expensive to produce. The biggest ressources needed to facilitate a Human Library are time and volunteers, which has made it possible to stage events in a wide range of countries, including Denmark, Romania, Iceland, Poland, Italy, Holland, Slovenia, Belgium, Portugal, Israel, Philippines, Thailand, Australia, Canada, and the United States.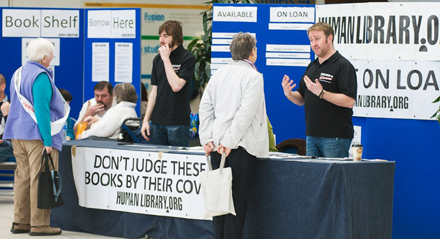 The first Human Library was created for the 2000 Roskilde Music Festival by a group of Danish activists who formed in response to a violent hate crime. Their idea was to use the language and mechanism of a library to facilitate conversations that challenge prejudice, thereby reducing the risk of tension and violence. In 2008, the Human Library Organization was formed in Copenhagen. From there, the creators and founders of the Human Library Organization have helped the movement to grow steadily across the world. It is currently active in over 70 countries. http://humanlibrary.org/
The story of the Human Library really begins in 1993, when five teenagers – Ronni Abergel, Erich Kristoffersen, Asma Mouna, Thomas Bertelsen, and Dany Abergel – created a Youth NGO called Stop The Violence. Their inspiration to form Stop The Violence was motivated by the brutal stabbing of a mutual friend in Copenhagen. They sought to reduce youth violence and challenge some of the negative stereotypes of young people in Denmark that had surrounded the reporting of their friend's attack. By 2000, Stop the Violence had over 30,000 members and had organized a range of engagement and awareness-raising activities across Denmark. Then Leif Stov, the Director of the Roskilde Festival, asked Stop The Violence to create an activity that would challenge prejudice, encourage dialogue, and build positive relationships between festival-goers at the 2000 Roskilde Festival. Ronni Abergel, Asma Mouna, and Christoffer Erichsen created the "Human Library" – an event where different sub-cultures and groups that are often hostile to one another could connect, engage, and converse. They recruited so many volunteers from the festival-goers that the first ever Human Library featured 75 Human Books. "I figured that if we could make people sit down with a group attached to a certain stigma they don't like or even know about for that matter, we could diminish violence," explains Ronni Abergel.
The only permanent reoccurring Human Library event has been in operation since the fall of 2014. More than ten events have been organized at Denmarks biggest library, the Copenhagen Central Library, and the events are continuing to happen. Readers are invited to choose between more than 25 titles published from the Copenhagen Human Library Book Depot. The services of the Human Library are always free to Readers.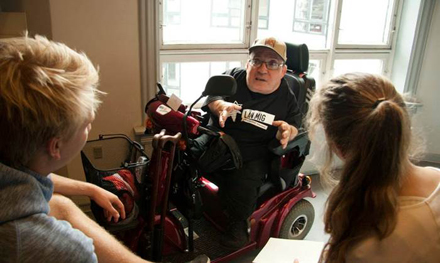 The Human Library is made up of Human Books, which are people who volunteer to challenge prejudice and stereotype through respectful conversation with members of the public. By volunteering, Books give their permission for people at a Human Library event to ask questions about their life, and to talk openly about prejudice, stereotype, and discrimination. With the help of their Organizer they choose a Book title that directly relates to the prejudice, stereotype, or stigma that they want to challenge, such as issues related to asethnicity, sex, age, disability, sexual preference, gender identity, religion/belief, lifestyle, or other aspects. They receive training beforehand where they have the opportunity to meet other Books from different backgrounds, learn how the Human Library works in practice, and explore the potential questions people could ask. Although the role of the Book might appear to be similar to storytelling, the Human Books are not storytellers. The Human Library encourages active and engaging conversations, rather than storytelling. Books are encouraged to ask as many questions as Readers, and sometimes the Books will ask the first questions. This could be as simple as "Why did you choose me?" or "What did you expect me to look like?"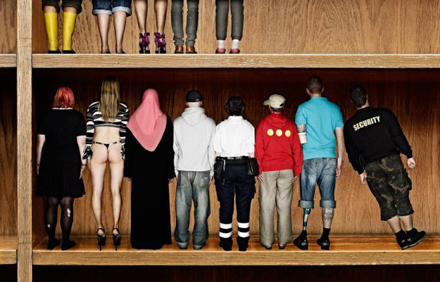 Many individual or societal prejudices are based on stereotypes or lack of knowledge. Sometimes our opinions and attitudes are based upon prejudices that we might be unaware that we have. Think about the first thing that comes to mind when you encounter terms such as "Schizophrenic", "Drug Addict", "Transgender", "HIV+", or "Asylum Seeker". It is likely that all of our responses will be influenced to some degree by pre-existing ideas. It is only by reflecting the diversity of our communities that the Human Library can effectively challenge prejudices.
Inclusion is of vital importance because the Human Library supports all groups, communities, and individuals who experience discrimination. The Human Library does not highlight a single issue or cause because they believe that prejudice and discrimination has to be challenged in the widest possible context. That is why Human Books are recruited from a wide-range of backgrounds to represent and potentially challenge the multiple prejudices and stereotypes that can be experienced. This is not only a powerful statement of inclusion, it allows for a wide-range of social contact between the volunteers and Readers, exposing them to different experiences and perspectives.
Choice is a vital component of the Human Library. Readers must be given a choice from a range of titles. This is why the mechanism of a library was chosen, and why the Human Library is so effective. Not all Readers will be aware of their own prejudices, let alone motivated to publicly declare and challenge them.
It is important these days to understand what life looks like through another's eyes, which leads to empathy and encourages compassion. The Human Library is a powerful step towards peace.

Human Libraries educate us about each other